"Weinerman Up"
Season 1, Episode 20
Prod. Code:
111a
Premiered:
March 18, 2013
"Weinerman Up" is the twentieth episode of the first season of Randy Cunningham: 9th Grade Ninja. It premiered on March 18, 2013.
Synopsis
When Randy and Howard's video game battle gets out of hand, the Ninja must save the town from a giant robot created by Viceroy.
Plot
The episode starts at Greg's Game Hole where Howard is trying his best to beat Randy's high score. Randy taunts Howard multiple times, but Howard manages to hold his own, until he gets zombified in the game. As Randy shows his hall of fame, getting first place in almost every game, Greg shows them a new game. Randy and Howard quickly challenge each other to see who can get the prize of first place, unknown to them that it is a trap set up by Viceroy and McFist.
Randy tricks Howard in order to play first in the game. Unknowingly, Randy releases Jack Hammer, a giant robot. The game is instead real life and Randy is tricked into destroying part of Norrisville, thinking it was part of the game. After Randy runs off after hearing about a giant robot attacking the city, Howard takes control of Jack. Randy then runs into the Jack in real life, causing him to realize that it was a trap. Randy attempts to call Howard, but Howard brushes off his pleas to stop, thinking it was another trick to get him to lose. Randy then is beaten down by the Robot and eaten by it. Jack Hammer started using the jackhammer that is just unlocked. In the stomach, the walls start to close in on him.
On the verge of being crushed, Randy consults the NinjaNomicon for help. After receiving help, he exits through the 'backdoor' which causes Jack Hammer to eject him out. Randy escapes and attempts to call Howard again. Howard claims that he was 2000 points from beating Randy. Remembering the Nomicon's lesson to let the enemy win, he taunts Howard to hit him. After being knocked into the school, bouncing off multiple lockers, and have a rock fall on his foot, Randy finally convinces Howard to stop and make Jack jump off a cliff, much to the disappointment of McFist and Viceroy after Howard wins him.
Randy meets Howard again in which Howard brags on how good he is, finally having his name in first place. Randy dismisses the idea, claiming that he let him win and points out his eyes were closed in the Hall of Fame picture. The episode ends with Randy and Howard doing an arcade game together, challenging each other.
Characters
Main characters
Secondary characters
Background characters
Storyboards
Here is the link.
Trivia
Gallery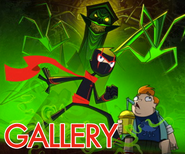 Click here to view the gallery.
Community content is available under
CC-BY-SA
unless otherwise noted.