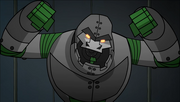 Viceroy's Creations, from robots to monsters, are inventions for McFist at McFist Industries. While some are simply meant to do simple jobs, many of them are used to fight the Ninja.
Creations
Robots
Otto (Viceroy's robot assistant)
Blob Monster (and Nicholas)
Robo-Snake (twice, the second time with a Mexican Death Bear included)
Chainsaw-Bot
Bull-Bot
Executioner-Bot
Polar Bear Bot
Mort Weinerman's Turtle Hodge-Podge
Amp-Bots
McFist Product Robot
Kill Bot
Kango-saur Robot
Mino-taur Robot
Tar-hand-tula Robot
Stero-dactyls
Bebop Bot
Dale
Raptor Bot
Monsters
Other Inventions
McExterminator Armor
Lucius O'Thunderpunch Armor
Sentari Roller Coaster
McFlume
Many McFist Industries Products
Community content is available under
CC-BY-SA
unless otherwise noted.