"The Ninja Identity"
Season 1, Episode 35
Prod. Code:
119a
Premiered:
October 12, 2013
"The Ninja Identity"
is the thirty-fifth episode of the
first season
of
Randy Cunningham: 9th Grade Ninja
and the first part of a special double-length episode with "
The Ninja Supremacy
." It premiered on October 12, 2013.
Synopsis
When Randy inadvertently mind-wipes himself and develops amnesia, Howard must fill in as the Ninja until Randy can get his memory back.
Plot
The episode starts off with Randy looming over his Norrisville Dam project. Howard comes in dressed as the founder of the dam. At first, Randy is impressed, but after he learns Howard worked on the costume rather than his speech, Randy becomes irritated. Sudden a scorpion-like robot, Psycho Bot, shows up. Randy puts on his Ninja Suit and goes to fight the robot. After Randy seems to have defeated the robot, it nevertheless gets up again to battle. Viceroy reveals to McFist that the robot's learning chip analyzes the moves of the Ninja so that it can perfectly counter the attack. Randy realizes that the robot is learning and that it's nearly unstoppable; the only way he is able to beat it is by accidentally knocking himself and it off the roof of Norrisville High and crashing into the ground.
Afterwards, Randy, annoyed that he cannot defeat the robot, consults the NinjaNomicon. There, he finds a door to the "Utimate Lesson." Several times, Randy tries to open the door with no luck, but when he finally does, he is mind-wiped and forgets everything, including who he is. Meanwhile, Psycho-Bot has survived and manages to repair itself, learning about fear, despair, and anger in the process. Howard sees that Randy is acting as if he remembers nothing; not believing him at first, but finally realizing that Randy really did lose his memory, Howard tries desperately to make him remember who he is as Psycho-Bot rampages in the school. Howard finally gets the ninja suit from Randy's possession and puts it on to fight the robot.
Characters
Main characters
Secondary characters
Background characters
Trivia
Gallery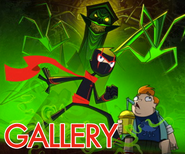 Click here to view the gallery.
Community content is available under
CC-BY-SA
unless otherwise noted.