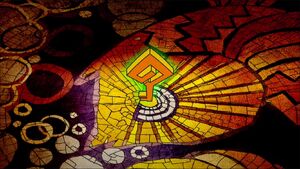 The Sorcerer's Key is a key that is used to release the Sorcerer from the prison. It made its debut appearance in the episode "Randy Cunningham and the Sorcerer's Key".
History
Before Randy and Howard ruined the timeline, the key was used to close the Sorcerer's prison after the Sorcerer got trapped by Eye of Eternites. When the key is found, the NinjaNomicon stores its key until the key itself moves to a different location. Everytime the key reveals its location, the Sorcerer tends to fail from getting the key. During "Ball's Well That Friends Well", the Sorcerer was released from the prison to fight against Evil Julian.
Trivia
So far, how Nomicon interprets opening the prison is different from reality shown in "Ball's Well That Friends Well."

The circle on the floor of the Sorcerer's hole is written in hiragana and katakana which roughly translates, "Wake up soul; one who makes others proud; see the shore; a meaningless song; right and left; left and right."
Community content is available under
CC-BY-SA
unless otherwise noted.