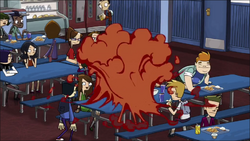 Smoke-Bombs are ninja balls the Norrisville Ninja uses in order to appear and disappear.
About
It is revealed in "Silent Punch, Deadly Punch" that the Ninja Suit has a limited stock and it needs the sap of a special tree called the "Skunk Pine" to create the bombs; for that reason, not even one should be wasted. Though Randy used to waste a lot of smoke bombs, after learning that he could run out of them and that they meant as a tool of strategy and not for show, he made sure to use more his smoke-bombs more wisely.
Trivia
It is unknown whether the smoke-bomb has the power to teleport or just gives the Ninja a way to sneak away. Randy's comings and goings in "Lucius O'Thunderpunch," however, seem to point towards the latter.
Randy can also take smoke-bombs out of the Ninja Suit and use them when he is not wearing it.
Randy also uses smoke-bombs to evade an opponent temporarily, whether in order to think of a way to win the fight or to ask the NinjaNomicon for advice, as he did in "Attack of the Killer Potatoes."
The smoke bombs apparently have quite a pungent odor, as various people, such as Randy, Howard, and Felipe have pointed out that they smell like farts.

It is worth noting that the odor lingers on for a while. That is how S. Ward Smith is able to figure out that Randy is the Ninja in "Sword Quest" because he "reeks of smoke-bombs."
Community content is available under
CC-BY-SA
unless otherwise noted.