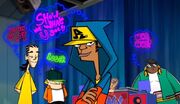 Rudd Rhymez is a high school rapper and leader of his posse at Norrisville High.
He first appeared in "Hip Hopocalypse Now". He is voiced by David Alan Grier.
Personality
Accompanied by his mixmaster Tiny Timmy Scratch It and the rest of his crew, Rhymez is popular for his rapping at Norrisville High. He mostly speaks in rhyming dialogue, hench his name. He also has a temper, and out of frustration for getting hit with mashed potatoes and being rhymed at (unintentionally) by Randy, he challenges him to a rap battle.
Although coming off as tough, Rhymez isn't mean, only wanting a non-rhyming apology from Randy, and for him to dry-clean his hoodie that was pelted with mashed potatoes earlier. Also, he cares for his crew, and is depressed when Timmy gets eaten by the worm. He even allows 30 Seconds to Math to play with his crew.
Images
Quotes
"Ooooh, it is on like kettle corn!"
"(to Howard) You ain't in my crew!"
"And when we're threw, they'll be nothin left of yo crew. (to Howard) FYI, you in his crew"
"No not Timmy. He was probably going to graduate this year."
"First you splatter me, THEN YOU RHYME AT ME?"
"Aw man. I was going to get my drink on and my snack on."
Community content is available under
CC-BY-SA
unless otherwise noted.