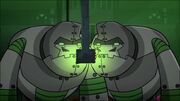 Robo-Apes 
are
Viceroy's
robots that work for
McFist
at
McFist Industries
. They're often doing jobs at McFist's businesses like catering or hunting down the
Ninja
. The Robo-Apes are voiced by
John DiMaggio
.
Led by the head Robo-Ape, they follow McFist's orders, although many casualities happen whenever they fighting the Ninja. Viceroy, at one point, gave them different modes, like Strike Mode and Ape Mode--although he had to remove them after their uprising in "Rise of the Planet of the Robo-Apes". They aren't very intelligent, but they are strong and fight in numbers. They also sometimes have attachments, like swords and kitchen whisks, depending on their intended job.
Trivia
Images
Quotes
Robo-Ape: Larry, what has gotten into you?
(Randy takes off the head of the Robo-Ape that he was using as a disguise)
Robo-Ape: Uh-oh. Why are you wearing Larry?
Randy: Because once the Ninja is known he can never be unknown, and if you had known it was me, you never would have let me in.
Robo-Ape: (in a pose of confusion) Processing, Processing...
Randy: No NINJA SURPRISE RESCUE! (slices Robo-Ape in Half)
Robo-Ape: Still processing... (splits in half)
Community content is available under
CC-BY-SA
unless otherwise noted.