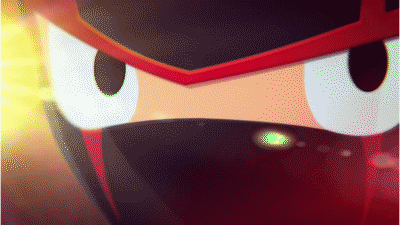 Randy Cunningham: 9th Grade Ninja is an American-British-Irish animated television series, created and executive produced by Jed Elinoff and Scott Thomas. It is produced by Titmouse, Inc., Boulder Media Limited, and Disney Television Animation. The first episode was given a preview on august 13th 2012, premiered on September 17th 2012, and the final episode premiered on July 27, 2015.
Plot
A town called Norrisville has been protected by a ninja for 800 years. But what the citizens of Norrisville don't know is that a new ninja is selected every four years. Randy Cunningham, ninth grade teenager, is the next ninja. Now, with the help of his best friend Howard, Randy must protect Norrisville from the evil plans of the Sorcerer, his ally Hannibal McFist, and McFist's assistant Viceroy.
Production
The idea for the show first came in 2008, when Jed Elinoff and Scott Thomas were throwing around ideas and created the title. When they were presenting pitches to Disney XD in December of 2008, they revealed the title to the managers, who agreed to pick up a pilot for the show.
According to Titmouse producer Ben Kalina, the original pilot had a different art design, something that looked similar to Kim Possible, when it was pitched. However, the show was retooled, and Jhonen Vasquez was brought in to design the main cast, which would help set the current style of the show.
Cast and Characters
Seasons
The show's first season is 26 episodes made up of 52 11-minute episodes. Many episodes have been aired out of chronological order. The series started with the pilot "Last Stall on the Left", and finished with the two-part finale "Randy Cunningham: 13th Century Ninja".
The second season was confirmed by people who work on the show. It has 48 11-minute episodes, and it officially began on September 29, 2014 with "Welcome Back Catfish", although the episodes "Flume-Igation" and "On the Poolfront" premiered ahead of the season's official run on July 19 as part of the "Show Me the Shark!" event by Disney XD.
Broadcast
A preview of Randy Cunningham: 9th Grade Ninja aired on Disney XD in the United States on August 13, 2012. The official US premiere was on September 17, 2012. Disney XD Canada premiered the series on September 29, 2012. The series premiered on October 4, 2012 on Disney XD (UK & Ireland). It premiered in Australia on December 10, 2012 on Disney Channel and on April 10, 2014 on Disney XD.
Other Pages Related to Show Information
Reference
Community content is available under
CC-BY-SA
unless otherwise noted.