"
My Car!
"

–Principal Slimovitz
Principal Irving Slimovitz is the principal and Math teacher at Norrisville High.
Appearance
Everyday
Slimovitz is tall and skinny with balding grayish-black hair and yellow-green eyes. He wears glasses, a white turtleneck shirt underneath a gray vest and brown jacket, grayish-blue pants, and black shoes.
Monster Form
When he is stanked by the Sorcerer, Principal Slimovitz is transformed into a muscular, humanoid monster with blue skin and dark blue stripes.
Personality
Slimovitz is a nervous yet overly optimistic principal. Although he's stuck in a school that's alway dealing with monsters and robots, Slimovitz is always tries to deal with it and hopes that the school will be free of constant damage eventually. He is easily terrified whenever he gets attacked, failing to follow his own rules for the drill because the real robot scares him. However, he is at least fair, often giving kids detention if they break rules. He does find some crimes more annoying than others, though, saying the one thing that he despises more than tour abandoners are tattletales in "Randy Cunningham: 13th Century Ninja".
Possessions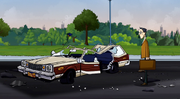 Principal Slimovitz really loves his car and cares about it more than he cares about the school's welfare. However, whether it be monsters, robots, or even teachers, his car is usually badly damaged. He is often devasted when his car gets destroyed in almost every episode, even though it gets fixed afterwards before the next destruction begins.
Community content is available under
CC-BY-SA
unless otherwise noted.