Bo-Staff is weapon used by the Norrisville Ninja.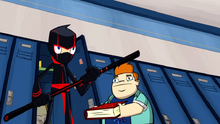 Appearance
Edit
Howard uses this weapon to against Psycho-Bot calling "Ninja Stick" aloud when he is the ninja in "The Ninja Supremacy."
When the weapon is used by Randy in "The Fresh Principal of Norrisville High", its appearance is like merged Ninja Manrikigusari.