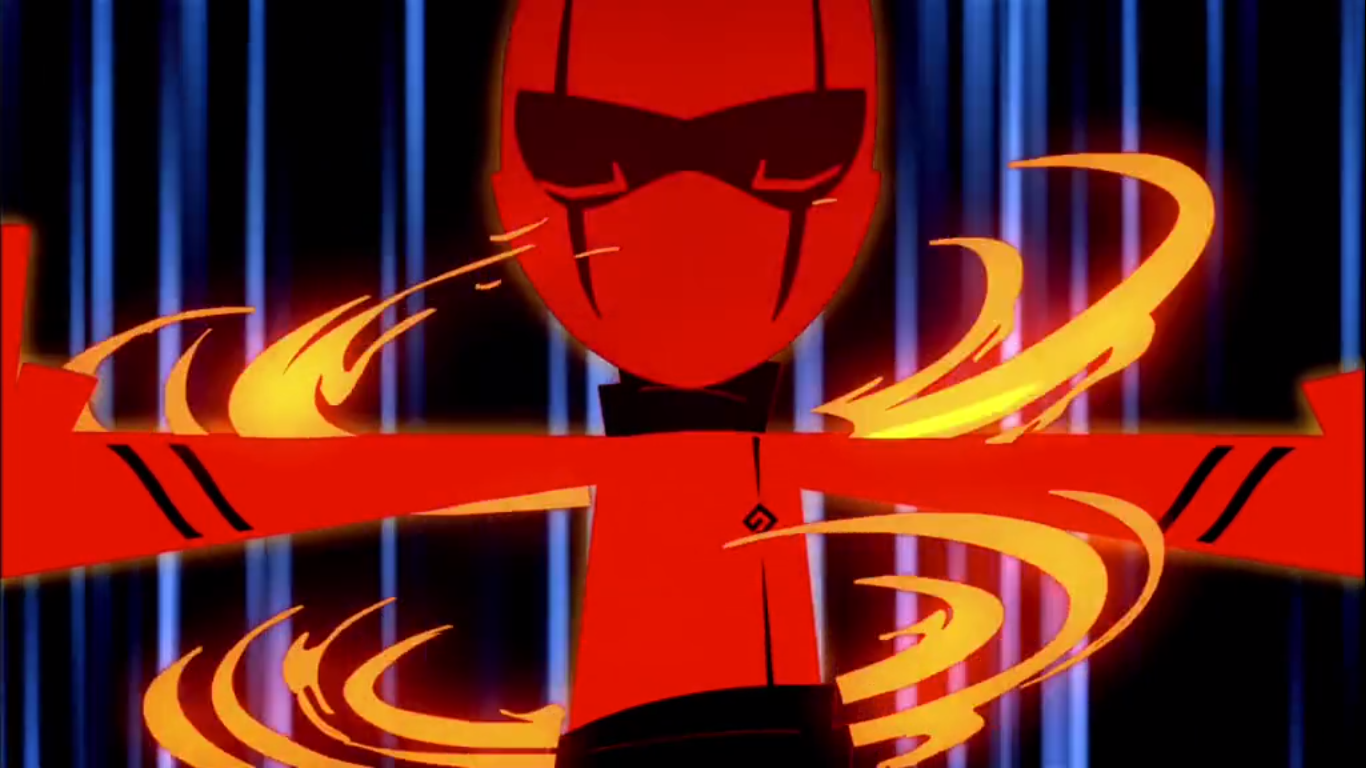 The Ninja Rage
 is a power gained by the
Ninja
to become ignited and use fire powers.
Description
When in Ninja Rage, the Ninja Suit's colors are reversed and ignites on fire. The Ninja's eyes also turn red as the surrounding area becomes black. The newly colored suit gives fire-based attacks to the Ninja, which can spawn from his hands and set the Ninja Sword ablaze.
The power of the Ninja suit comes from infused demon bird Tengu feathers after Randy burned the Ninja Mask in order to defeat the Tengu and save Howard. In "Randy Cunningham: 13th Century Ninja", while controlling Tengu Howard, Randy is able to set both himself and the Tengu ablaze.
Randy chronologically received Ninja Rage in "Evil Spirit Week" after he threw the Ninja Mask into the fire to save Howard and got it back after it re-materialized. In "Silent Punch, Deadly Punch", Randy attempts to fight off McFist's minions and escape by setting the Skunk Pine on fire. Randy also used this power briefly to use Ninja Tengu-Fireball to destroy the projector in "Grave Puncher: The Movie!" after finding out he had to destroy the projector to destroy the rampaging movie character. He later used it in "Raiders of the Lost Nomicon" to destroy the window to escape McFist Industries when being chased by the Sorcerer's red stank.
Randy have not mastered Ninja Rage because he never seemed to use it for a long time. He always reverted back to his regular form after doing what has to be done, usually after finishing an attack. However, in "Randy Cunningham: 13th Century Ninja", Randy stayed in Ninja Rage for long periods of time, only reverting back whenever he experienced a major blow from the Sorcerer as well as in the game "Ninja Fist Totem Smasher" not reverting until his gauge goes down.
Gallery
Trivia
Randy is the only known Ninja to use Ninja Rage.
Randy usually only spends more than a few seconds in Ninja Rage.
Although Ninja Rage first appeared in "Silent Punch, Deadly Punch", "Evil Spirit Week", which aired afterwards, is the episode where Randy first gains the power.
The power of Ninja Rage is very useful to fight a powerful monster when Randy is able to hold it longer.
He has not used any ninja gear in Ninja Rage mode except for his sword.
It probably can be used to further damage opponents vulnerable to heat.
This is a special feature in the Punchocalypse and Enter the NinjaNomicon games.

In Enter the Ninjanomicon game, if you collect all the knowledge and have 2 chi gauges you can use Ninja Cold Rage, which is the opposite of Ninja Rage for the Punchocalypse and Enter the Ninjanomicon games.
Community content is available under
CC-BY-SA
unless otherwise noted.