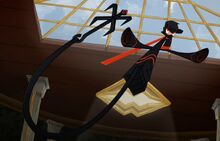 Ninja Kaginawa is a type of grappling hook by the Norrisville Ninja.
Summary
It is also used as a tool in feudal Japan by the samurai class, their retainers, foot soldiers and reportedly by ninja. Kaginawa have several configurations, from one to four hooks. The kagi would be attached to a nawa of varying length, and this is then used to scale a rather large wall.
Appearance
Trivia
Randy calls the weapons are "Ninja double hook." in "Wave Slayers".
Gallery
Community content is available under
CC-BY-SA
unless otherwise noted.