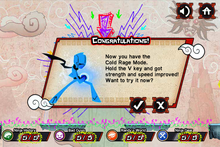 Ninja Cold Rage is an ability that can be unlocked by completing Enter the Ninjanomicon at 100%. It can be used in the Punchpocalyspe and Enter the Ninjanomicon games.
Description
Cold rage acts similar to Ninja Rage, but it uses ice instead which allows the Norrisville Ninja to freeze things in general and along with his weapons. In the game, the Ninja freezes the ninja rings, and Randy shouted, "Ninja cold rage!" When using the Ninja Cold Rage, he announced, "Tengu fire ball!"
Community content is available under
CC-BY-SA
unless otherwise noted.