"Ninja Camp"
Season 1, Episode 32
Prod. Code:
108b
Premiered:
July 27, 2013
"Ninja Camp"
is the thirty-second episode of the
first season
of
Randy Cunningham: 9th Grade Ninja
. It premiered on July 27, 2013.
Synopsis
Randy must stop a former Norrisville Ninja-turned-nemesis from recruiting an army intended to destroy the Ninja.
Plot
Howard signs Randy and himself to join a Ninja Camp; Randy at first refuses, saying that he needs to train, but when he consults the NinjaNomicon, it reveals that Mac Antfee, who runs the camp, was himself formerly the Ninja, and Randy agrees to join Howard in the camp in order to learn from him. Mac Antfee, after introducing himself, asks the campers what the purpose of being a Ninja is supposed to be; when Randy asserts that it is to help people, Mac scornfully dismisses the idea, stating that the purpose of being a Ninja is to win at any cost, and starts takes an instant dislike to Randy, hurling insults at him throughout the episode.
Throughout training, Randy is frequently beaten by Mac's other students's dirty tricks. Although Howard seems oblivious, Randy senses something wrong about Mac; consulting the Nomicon, Randy learns that Antfee was expelled from being the Ninja because he was selfish, irresponsible, and needlessly violent. Randy realizes the Nomicon was testing him, and that by not following Mac's example, he has proven himself worthy of being the Ninja.
Meanwhile, Howard and the other students are induced to swear loyalty to Mac, though Howard demurs after hearing of Mac's plans to destroy the Ninja and to "kick every butt in Norrisville." Randy pops in just in time to takes on Mac and his followers. Mac underhandedly traps Randy and takes Howard hostage, but Randy outsmarts Mac and saves his best friend. Randy claims that Howard has the qualities of a good Ninja, which pleases Howard.
While returning home, Randy sarcastically remarks on how great an adventure it was and that they should go again next year. Howard mollifies him by saying that Randy will have to settle for being the best Norrisville Ninja ever due to his good heart, though he ruins the moment by reminding him that he let Mac get away.
Mac Antfee is seen afterwards speeding away in a boat, vowing that he will get his revenge someday.
Characters
Main characters
Secondary characters
Background characters
Trivia
Gallery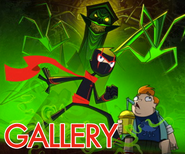 Click here to view the gallery.
Community content is available under
CC-BY-SA
unless otherwise noted.