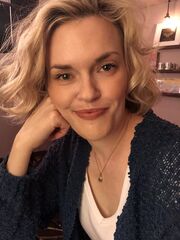 Kari K. Wahlgren (born July 13, 1977) is an American voice actress, stage actress, T.V. actress, and film actress who has provided English language voices for dozens of anime titles and video games.
Voice
Career
Her debut role was as one of the main characters of FLCL, Haruko Haruhara. She had a live-action role as Tinker Bell in the 2003 Damion Dietz film Neverland. She provided the voice of the supporting character Mindy in the 2008 Walt Disney Animation Studios film Bolt, Haruhara Haruko in Gainax's OVA FLCL, and the computer program Jean in the 2009 television pilot Virtuality. She was interviewed in the 2008 documentary Adventures in Voice Acting. In 2010 she starred in Disney XD show Kick Buttowski: Suburban Daredevil as Honey Buttowski and the Disney Channel show Fish Hooks as Bea's friend Shellsea, and as Helen in Wizards of Waverly Place. She also does the voice of Tigress in Kung Fu Panda: Legends of Awesomeness. She can also be seen as "Mud Girl" in a recent Swiffer commercial. She also does the voice of Suzy Johnson in Phineas and Ferb [1] and is well known by comic book fans for the voice of Emma Frost in various video games and animated series.
Filmography
Movies
Lead roles in bold
Animation
Cartoons
Anime
Blood+ - Saya Otonashi, Diva, Liza
Code Geass: Lelouch of the Rebellion R2 - Guinevere su Britannia, Ichijiku Hinata, Marianne vi Britannia
The Disappearance of Haruhi Suzumiya - Tsuruya, Kyon's Sister
FLCL - Haruko Haruhara (Debut Role)
Immortal Grand Prix - Michiru Satomi, Luca
Le Portrait de Petit Cossette - Yuu Saiga
Mars Daybreak - Rosetta
The Melancholy of Haruhi Suzumiya - Tsuruya, Kyon's Sister, Mai Zaizen
Naruto - Mikoto Uchiha, Tayuya, Young Kimimaro, Hana Inuzuka, Ranmaru
Naruto the Movie: Ninja Clash in the Land of Snow - Koyuki Kazahana/Yukie Fujikaze
Naruto Shippuden - Young Sasori, Pain (female Animal Path), Fū (Seven Tails Jinchūriki), Hana Inuzuka, Mikoto Uchiha
Rave Master - Remi
Robotech: The Shadow Chronicles - Ariel
Steamboy - Scarlett O'Hara St. Jones
Stitch! - Mrs. Kawasaki
Strait Jacket - Rachel Hammond
Tiger & Bunny - Karina Lyle/Blue Rose
Witch Hunter Robin - Robin Sena
Wolf's Rain - Cher Degre
Zatch Bell! - Additional Voices
Yukikaze - Captain Edith Foss
credited as Kay Jensen
credited as Jennifer Jean
credited as Tara Hudson
credited under other names
Video games
Stage
Radio drama
Community content is available under
CC-BY-SA
unless otherwise noted.