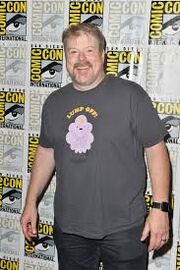 John William DiMaggio (born September 4, 1968) is an American voice actor and comedian, best known for his work as Bender from the television show Futurama, Marcus Fenix from the Gears of War video game series, and as Jake the Dog on Adventure Time.
Career
He is known for his iconic role as Bender on Futurama, as well as playing such roles as Marcus Fenix in the Gears of War franchise, Brother Blood in Teen Titans and Teen Titans Go!, Dr. Drakken on Kim Possible, Jake the Dog on Adventure Time, and Niblet on Pound Puppies (2010). DiMaggio is a former comedian, appearing on stage as part of a comic duo named "Red Johnny and the Round Guy" and has several on-screen credits, such as Steve Ballmer in Pirates of Silicon Valley (the docudrama about the history of Apple Computers and Microsoft) and as the recurring character Dr. Sean Underhill on Chicago Hope.
Voices
See also
Community content is available under
CC-BY-SA
unless otherwise noted.