"Hip Hopocalypse Now"
Season 1, Episode 31
Prod. Code:
116b
Premiered:
July 20, 2013
"Hip Hopocalypse Now" is the thirty-first episode of the first season of Randy Cunningham: 9th Grade Ninja. It premiered on July 20, 2013.
Synopsis
The Ninja accidentally summons a giant monster when he uses an ancient ninja lesson during a rap battle.
Plot
Randy is practicing the Earth Attack, although Randy gets wrong on his first try. Eventually, he gets it right and the NinjaNomicon tells him that words can be more powerful than a sword. Randy comments he can't stab an opponent with words. Meanwhile, Howard is getting excited about trying to join Rhymez's crew after he won Bash in rapping. Howard refuses to give Randy the Nomicon unless they join the crew, much to Randy's chagrin. The Nomicon flies and crashes in Rhymez's food, causing it to get on his hoodie. Randy humiliates him accidentally by apologizing in rhyme. He forces Randy to a rap battle if he wanted to reclaim his book. Howard, during this time, keeps trying to join Rhymez, but instead is placed in Randy's crew. Howard starts blaming Randy for humiliating Rhymez and Randy states that it was his fault for taking the Nomicon. Then, Howard states everything after that is his fault. Howard asks Randy for opinion of his costume while trying to think of something that rhymes. Randy suddenly overwhelms Rhymez with the ancient spell plus calling him a worm. Because of that, a gigantic worm was summoned, causing whoever argues or fights against Randy to be caught and brought underground.
Characters
Main characters
Secondary characters
Background characters
Trivia
Gallery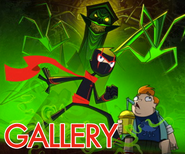 Click here to view the gallery.
Community content is available under
CC-BY-SA
unless otherwise noted.