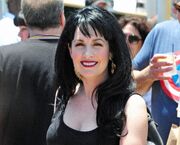 Grey DeLisle-Griffin (pronounced De-lyle; born Erin Grey Van Oosbree; August 24, 1973) is an American actress, voice actress, and singer-songwriter of Dutch, Norwegian, Mexican, French, and Irish descent.
Voices
Career
Harp has called DeLisle "golden-voiced" and recognized her for her roles in The Fairly Oddparents as well as Clifford the Big Red Dog and its prequel, Clifford's Puppy Days. She is the most recent actress to voice Daphne Blake in Scooby-Doo! Mystery Incorporated.[7] In addition to her numerous English-speaking roles, she also speaks Japanese as the character Yumi on Hi Hi Puffy AmiYumi. DeLisle has had voice acting roles in many computer and video games, such as Escape from Monkey Island, Baldur's Gate II: Shadows of Amn, Tomb Raider: Anniversary, Tomb Raider: Underworld and several Star Wars games. As a television voice actress, she portrays the Dark Jedi Asajj Ventress in five episodes of Star Wars: Clone Wars and reprises her role as Ventress in a bonus level in the Force Duel mode of the PSP version of the video game Star Wars: The Force Unleashed. She also portrays Azula on Avatar: The Last Airbender, Riley Daring on The Replacements, several voice roles (though mainly Mandy) on The Grim Adventures of Billy & Mandy, Therese and Jeanette (Tourette) Voerman in the White Wolf RPG PC game Vampire: The Masquerade – Bloodlines, Frida Suárez in El Tigre: The Adventures of Manny Rivera, Sam Manson in Danny Phantom, as well as Vicky and her sister Tootie in The Fairly OddParents, in Xiaolin Showdown as Kimiko Tohomiko and also in W.I.T.C.H as Miranda. She also voiced agent Kitty Katswell in the animated show T.U.F.F. Puppy on Nickelodeon. She also voiced Jackie Lynn Thomas and Moon Butterfly in Star vs. the Forces of Evil. She can also be heard on each of Frederator Studios' vanity cards, as she shouts "Frederator!"
See also
Community content is available under
CC-BY-SA
unless otherwise noted.