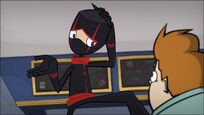 Gilbert Gottfried (born February 28, 1955 in Brooklyn, New York) is an American stand-up comedian, actor, and voice artist known for his trademark comedic persona of speaking in a loud, grating tone of voice and squinting.
Voice
Career
His numerous roles in film and television include voicing the parrot Iago in Disney's Aladdin (and the series based on it), Berkeley Beetle in Don Bluth's Thumbelina, Mister Mxyzptlk in Superman: The Animated Series, the crazed dentist Dr. Bender in The Fairly Oddparents, Kraang Subprime in the 2014 Teenage Mutant Ninja Turtles, and Digit in the children's cartoon / educational math-based show Cyberchase. Gottfried was also the voice of the Aflac Duck until 2011.
See Also
See Wikipedia:Gilbert Gottfried.
Community content is available under
CC-BY-SA
unless otherwise noted.