"Fudge Factory"
Season 2, Episode 11
Prod. Code:
206a
Premiered:
October 3, 2014
"Fudge Factory"
is the eleventh episode of the
second season
(and sixty-third episode overall) of
Randy Cunningham: 9th Grade Ninja
. It premiered on October 3, 2014.
Insulted that Howard doesn't think he's a good liar, Randy goes to extreme lengths to prove his friend wrong and puts both of them in grave danger.
CharactersEdit
Main CharactersEdit
Secondary Characters Edit
Background Characters Edit
Gallery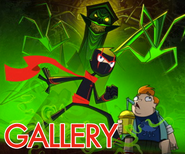 Click here to view the gallery.
Running Gag: People lying about their birthday to get dessert.
Marci's mom Ruth appears in this episode.

This episode (along with "Best Buds") was dedicated to the late actress Elaine Stritch, the voice actress of Ruth.
Marci's mom was named after the mother of Russ McGarry, one of the writers.

Many of Viceroy's creations for destroying the Ninja appeared in this episode:
PJ McFlubbuster's from "McFreaks" appeared in this episode.
This was the first time Randy was knocked unconscious, not counting "shloomping" into the
This episode marks the first time that Randy breaks the 4th wall.