"Escape from Detention Island"
Season Season 1, Episode 24
Prod. Code:
113a
Premiered:
June 29, 2013
"Escape from Detention Island" is the twenty-fourth episode of the first season of Randy Cunningham: Ninth Grade Ninja. It premiered on June 29, 2013.
Synopsis
When Howard and other students get sent to the dreaded Detention Island, the Ninja must figure out how to free them.
Plot
Howard Weinerman is sent by Principal Slimovitz for Detention Island because Randy tried to help him get out of trouble. When Howard arrives, he finds that Bucky Hensletter, Bash Johnson, and Morgan have also been sent to the island. Originally, the Disciplinarian was going to give them normal punishments, but upon finding out the Ninja followed them there ostensibly to "help" them, he figures they were a bunch of cheaters and sets the whole island up to be a death trap, making the challenges next to impossible. After the Ninja intervenes in every challenge and nearly kills his classmates, he finally understands the lesson the Nomicon was trying to teach him. The Ninja ends up destroying the Disciplinarian and they all go back to Norrisville High. Principal Slimovitz is ready to give them even more punishment, but Howard explains what happened and that seems to appease Slimovitz enough to let them off the hook.
Characters
Main characters
Secondary characters
Background characters
Trivia
The title may be a reference to the 1981 film Escape from New York, in which Manhattan Island has been converted into a prison colony, or, more distantly, to the 1973 film I Escaped from Devil's Island, about an escapee from the former prison colony in French Guiana.
This is the first appearance of Detention Island.
Bucky's love of rocks and silt is brought up again.
Randy proves to be really good at math in this episode, shown by his equations to explain what happened to Principal Slimovitz.
Brock Octane is seen again, this time playing a Indiana Jones character that Howard is watching while in the blimp.
Gallery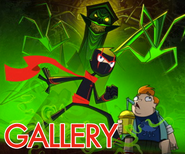 Click here to view the gallery.
Community content is available under
CC-BY-SA
unless otherwise noted.