Douglas "Doug" is a student who attends Norrisville High.
Not to be confused with Doug Jaminski.
Personality
Doug likes things to be logical, so he often points out the flaws in other people's thinking or even flaws in the logic of the episode he is in. He is also a tattletale and will tell everyone if someone is doing something against the rules. Due to his curiosity and desire to point out the obvious, people (particularly Howard) usually find him obnoxious and bothersome. Doug just wishes for people to be nice to him and to think things through like he does.
Trivia
His name is announced in "Got Stank." When he is thrown across the gym by Mick for trying to enter the Fish Cage, Randy calls out to him, "Nice try, Doug."
His design is based off of Jeremy Polgar, an animator for RC9GN.
He brought his science project, a volcano model, to the Norrisville High science fair in "Attack of the Killer Potatoes". However, the potato monster destroys it by crashing into it.
Though Doug seems rather unpopular among everyone at Norrisville High, Howard in particular seems to have a special dislike and disdain for him, and will often go out of his way to insult, humiliate, or even hurt him.

Howard puts his empty bowl of chili into Doug's backpack in "Sword Quest."

He went to Ninja Camp.
While wearing the school's mascot outfit, he gets shot with a laser from the I.D. Bot, which Howard is holding, in "The McHugger Games."
The Ninja throws a ninja ring at the Prankzooka robot in "Pranks for Nothing," but the robot transforms it into an apple, which heads back towards Randy. Randy dodges, and Doug, who was standing behind him, gets hit with it. Howard walks over to laugh at him.
His Stanked form (in his mascot outfit) resembles a giant carp.
In "Randy Cunningham: 13th Century Ninja," he is revealed to be a tattletale, calling out Randy and Howard, the Sorcerer, and Randy again for their bad actions. Each time, Principal Slimovitz gets upset at him for tattling instead of punishing others.

Principal Slimovitz often gets upset at Doug for no good reason. For instance, when the zipper on Doug's backpack becomes stuck and Doug asks Slimovitz for help, Slimovitz seizes it and throws it out the window, shouting, "It's not always all about YOU, Doug!"
Nevertheless, he is part of Principle Slimovitz's underground resistance and participates in the raid on Charlie Cluckers for food.
It is revealed in "When Howie Met Randy" that Doug used to mind his own business until he was rebuked by Marcy for saying nothing when Randy and Howard escaped from daycare; thereafter he vowed he would never stop talking.

Doug was given heavy focus in the "The Three Mascot-teers" where Randy and Howard stole his mascot position, which led to his becoming stanked.
Images and Appearances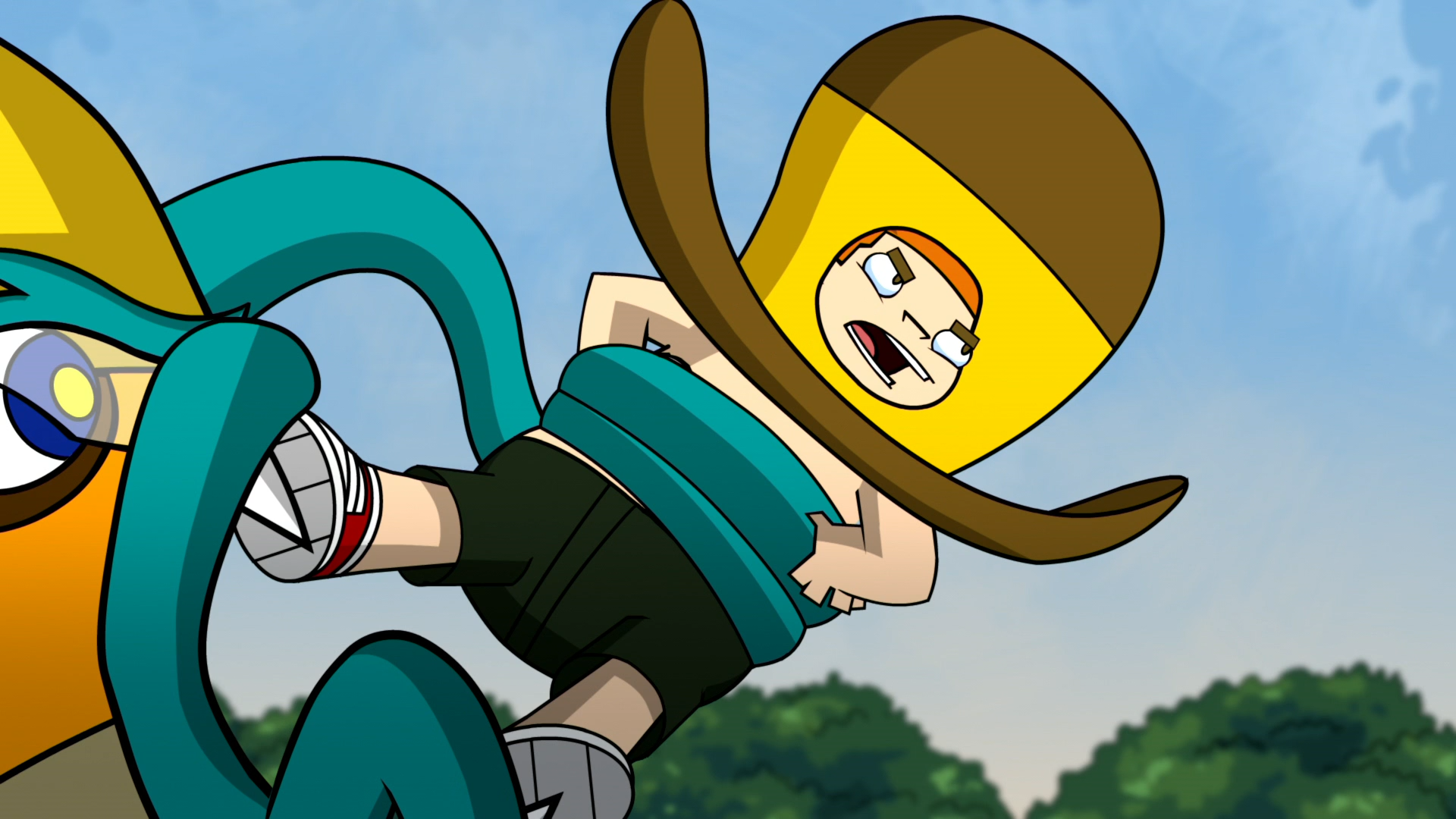 Miscellaneous
Quotes
"AAUUGGHH!!!"
"Principal Slimovitz! Randy and Howard are talking about sneaking out of the tour!"
"Principal Slimovitz! Randy's sleeping!"
"Ninja's the worst."
"Thanks, Howard."
"Uh, I have a question! How'd Mudfart pay the rent? I mean, trailers aren't free…unless he was squatting, but surely there's a law or an ordinance or — "
(Howard reads Doug's mind) "Still waiting on that burrito..."
"Isn't it the Ninja's fault we were here in the first place?"
"Isn't anyone gonna ask how Howard got so smart?"
"The Chuck-a-Cabra has just grabbed Howard!"
"So, were all your monsters fake?"
(Being carried by a killer bot) "Help! I need the Ninja!"
"Principal Slimovitz, this zipper's stuck on my knapsack."
"But my knapsack!"
(Possessed by Evil Julian) "I'm going to find the ultimate prize before you."
"Ninjaaa, why didn't you tell us there was an evil Sorcerer under the school?" (his last line)
Community content is available under
CC-BY-SA
unless otherwise noted.