"A ninja's hand is to give, not to take."

This page is a stub. Help the Randy Cunningham: 9th Grade Ninja Wiki by adding more information to this page.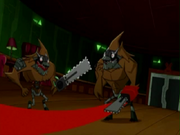 Chainsaw Werewolves (Sierra-Lobos 
in Latin Spanish) are 
one of
Viceroy's
many creations.
A chainsaw werewolf appeared in the episode Dawn of the Driscoll. It popped out of a vase after Viceroy blew a whistle. It attacked Randy, acting like a body guard for the scientist; it stopped only when Viceroy blew the whistle again, and started acting like a dog. Unlike the Mexican Death Bear robot hybrid, these creations seem to be entirely robotic. In Secret Stache, three attack the Ninja on McFist's Hover Yacht when Howard is mistaken for the Ninja and is about to be destroyed. In Nukid on the Block, Hannibal McFist deploys them to Norrisville to retrieve Franz Nukid when McFist accidently destroys the computer that would ID the ninja. They also made an appearance in McOne Armed and Dangerous.
Mechanic Wolves (Mecanico-Lobos in Latin Spanish) are also an enemy in the game Punchocalypse.
Images