"Bash Johnson: 11th Grade Ninja"
Season 1, Episode 25
Prod. Code:
113b
Premiered:
June 29, 2013
"Bash Johnson: 11th Grade Ninja" is the twenty-fifth episode of the first season of Randy Cunningham: 9th Grade Ninja. It premiered on June 29, 2013.
Synopsis
When school bully Bash is mistaken that he is the Ninja, Randy learns he must be a hero to all.
Plot
Randy is trying to destank Pradeep. Bash comes in to use the restroom and accidentally de-stanks the student. Randy smoke-bombs away to go get gravy fries in a hurry and when the smoke clears, the band geek sees Bash before him. In that moment he believes Bash is the ninja, so he goes to tell everybody. All the Norrisville students and staff believed him and treated him like royalty. The Sorcerer finds out about this and informs McFist, who was too busy with Marci's decorating plans to notice who was shown on the screen. McFist's Robo-Apes capture Bash and bring him to McFist's vaporizer to destroy him. Upon seeing Bash in place of the ninja, McFist panics and tries to stop the machine, but was informed by Viceroy that the machine was programmed to not be stopped. Randy, the real ninja, comes in disguised as a Robo-Ape and saves Bash. McFist is then bombarded with an angry Sorcerer and an angry Marci on the phone. At school, Bash was forced to announce he was not the ninja, and Pradeep apologizes to the real ninja for making a mistake. He tries to ask for the ninja's real identity, but Randy replies that he can't tell him.
Characters
Main characters
Secondary characters
Background characters
Storyboards
Here is the link of one of the storyboards
here
.
Gallery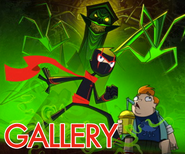 Click here to view the gallery.
Trivia
Community content is available under
CC-BY-SA
unless otherwise noted.