"Attack of the Killer Potatoes"
Season 1, Episode 8
Prod. Code:
103b
Premiered:
September 26, 2012
"Attack of the Killer Potatoes
" is the eighth episode of the
first season
of
Randy Cunningham: 9th Grade Ninja.
It premiered on September 26, 2012.
Synopsis
Randy and Howard want to win a science fair, but things don't go as planned.
Plot
Randy fights a robot, smokebombs to temporarily escape from it, and enters the NinjaNomicon in order to get help. He uses the chain-sickle but failed, then used a shovel on the robot and won. He finds the fart box and keeps it to show Howard later. In science class, Mrs. Driscoll tells Randy and Howard that they'll fail science class unless they win the science fair. Meanwhile, Marci McFist suggests that McFist and Bash work together on Bash's science project. Neither are up to the idea, though, and McFist just has Viceroy build a machine for Bash. Back at Randy's room, Randy shows Howard the fart box, and Howard played with it the whole night. He used the Fart Box in the Norrisville High Science Fair in order to pass science. However, Mrs. Driscoll gave him and Howard an F for it.
Characters
Main characters
Secondary characters
Background characters
Trivia
The title is an allusion to the 1978 comedy horror film Attack of the Killer Tomatoes.
The mutated potatoes in this episode are similar to the Phineas and Ferb episode "Lotsa Latkes" where the potatoes were also mutated by accident.
Bash complains that Mrs. Driscoll doesn't know how to count to C, a reference to Randy's math book having the title Math: Easy as 1-2-C.
Gallery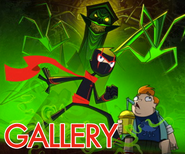 Click here to view the gallery.
Community content is available under
CC-BY-SA
unless otherwise noted.