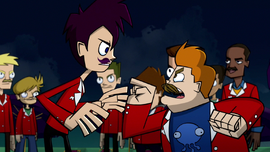 The Art of Disguise
is a power learned by the
Ninja
.
Description
The Ninja can change and alter their physical hair growth by focusing their ninja energy. If they loose control, the energy will master the Ninja, like major hair growth. It can be used in combat to fight, even if the Ninja can't move at all because it just requires focus.
In "Secret Stache", Randy used this skill to grow a mustache, enabling him to sneak into the Secret Stache party held by McFist. However, he lost control, resulting in "dog face", but actually turned out to be a good thing because this hides his face from McFist and Viceroy.
Trivia
Community content is available under
CC-BY-SA
unless otherwise noted.